The politicians and diplomats who support our society
Mr. Haris Silajdžić, Bosnia and Herzegovina
Mr. Edhem Bičakčić, Bosnia and Herzegovina - Mr. Ivo Miro Jović, Bosnia and Herzegovina -
Mr. Spasoje Tuševljak, Bosnia and Herzegovina - Mr. Stefan Dinchev Yanev, Bulgaria -
Mr. Ján Čarnogurský, Slovakia - Mr. Živadin Jovanović, Serbia -
Mrs. Reneta Indzhova, Bulgaria - Mr. Miroslav Lajčák, Slovakia -
Mr. Stanislav Shushkevich, Belarus - Mr. Prof. Georgi Bliznashki, Bulgaria
---
---
Prime Minister of the Republic of Bosnia and Herzegovina (1993-1996)
Chairman of the Presidency of Bosnia and Herzegovina (2008-2008, 2010-2010)
Poštovani gospodine Dominik. Hvala Vam za javljanje. Raduje me da natavljate aktivnosti sa Vašom grupom radeci na zbližavanju i upoznavanju ljudi iz drugih sredina. Svijet i vrijeme koje živimo traži direktne ljudske kontakte. Tehnologija kojom raspolazemo je samo pomocno sredstvo koje ne može zamijeniti neposrednu razmjenu iskustava. Cijelo covjecanstvo prolazi kroz period prebrzih promijena koje dovode do paradoksalne situacije: sto vise cyberspace-a, to vise zidova na zemlji. Vaša aktivnost je primjer kako se treba suprotstaviti problemu alijenacije medju ljudima. Vama i Vašim prijateljima želim uspjeh u tom nastojanju. Lijep pozdrav Haris Silajdžić
(11th July 2023 via social networks, Mr. Silajdžić was not able to participate in the WLAS-conference in Sarajevo in 2022, but WLAS stays in touch with him and here he expressed his opinion about our cooperation)
Dear Mr. Dominik, thank you for contacting me. I am glad that you are continuing activities with your group, working to bring people from other backgrounds closer together. The world and time we live in requires direct human contacts. The technology at our disposal is only an auxiliary tool that cannot replace direct exchange experiences. The whole of humanity is going through a period of rapid changes that lead to a paradoxical situation: the more cyberspace, the more walls on earth. Your activity is an example of how to confront the problem of alienation between people. I wish you and your friends success in this endeavour. Kind regards Haris Silajdžić
(translated by google translator)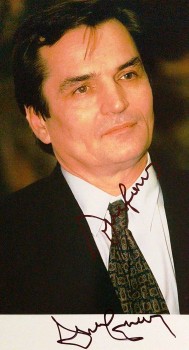 ---
Prime Minister of the Federation of Bosnia and Herzegovina (1996-2001)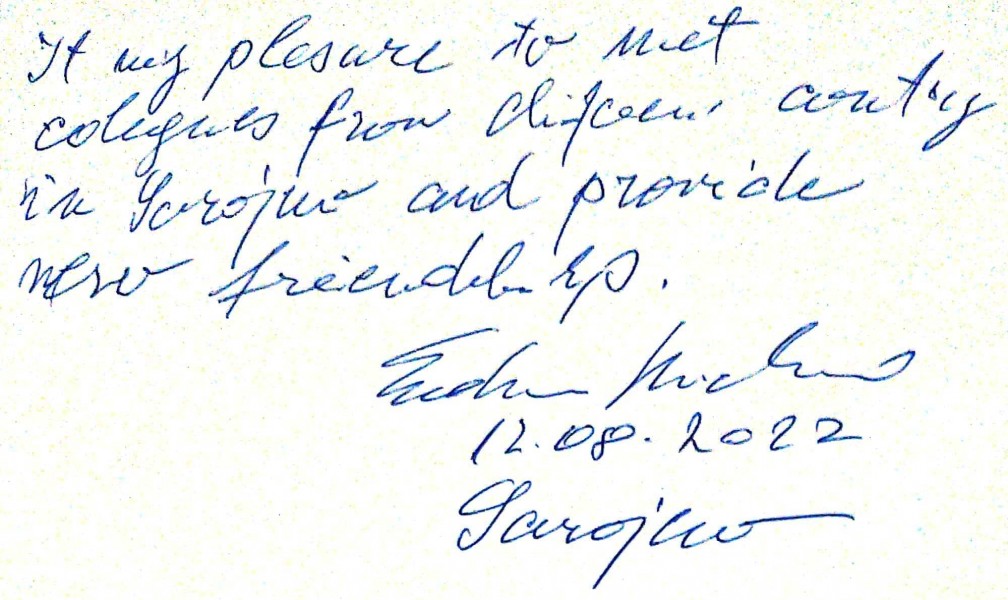 ---
Chairman of the Presidency of Bosnia and Herzegovina (2005-2006)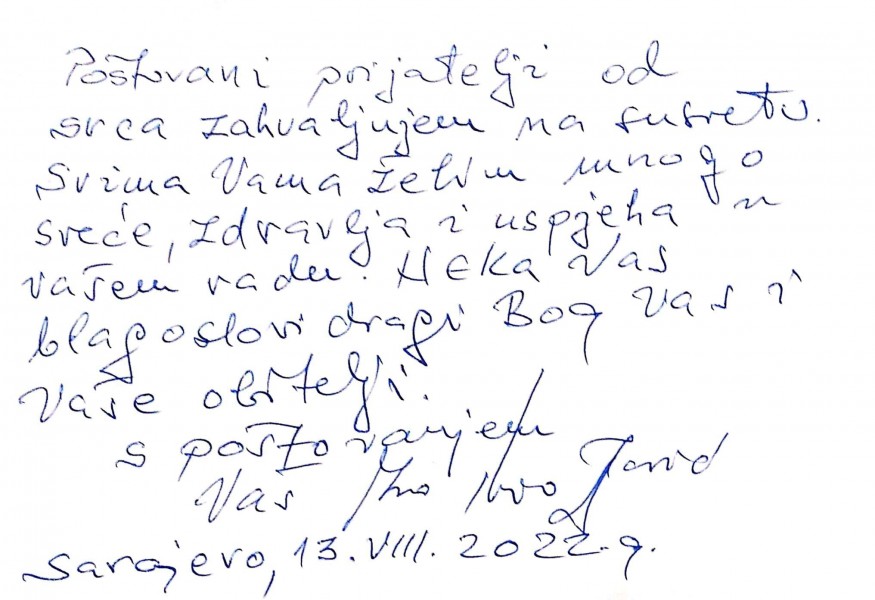 Dear distinguished friends, hereby, I express my cordial gratitude for this respective gathering. I wish you all a lot of good luck, happiness, health and success with your work. May kind God bestow His Blessing upon you and your families.
Respectfully yours,
Ivo Miro Jović
Sarajevo, 13. VIII. 2022
(translated by friend from Bosnia and Herzegovina)
---
Chairman of the Council of Ministers of Bosnia and Herzegovina (2000-2000)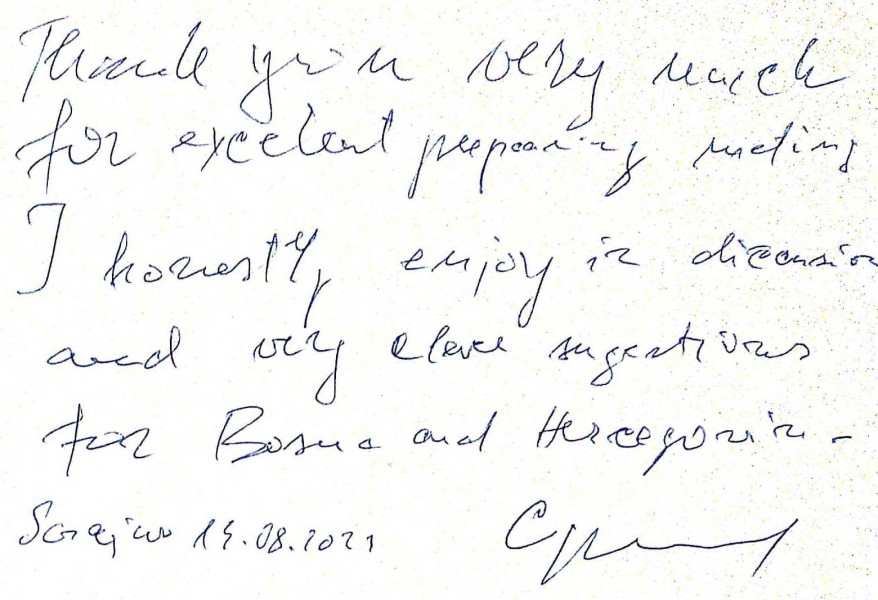 ---
interim prime minister of Bulgaria (2021- )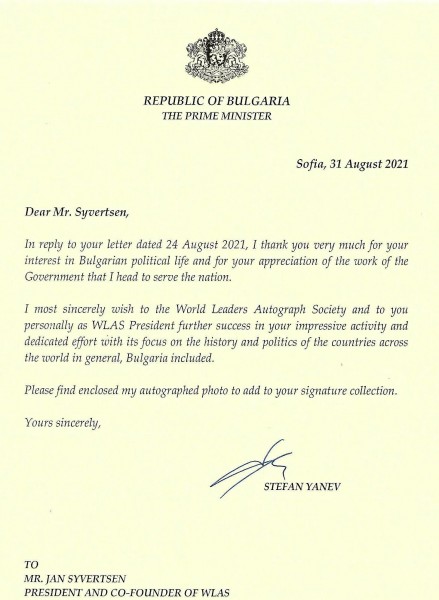 ---
prime minister of Slovakia (1991-1992)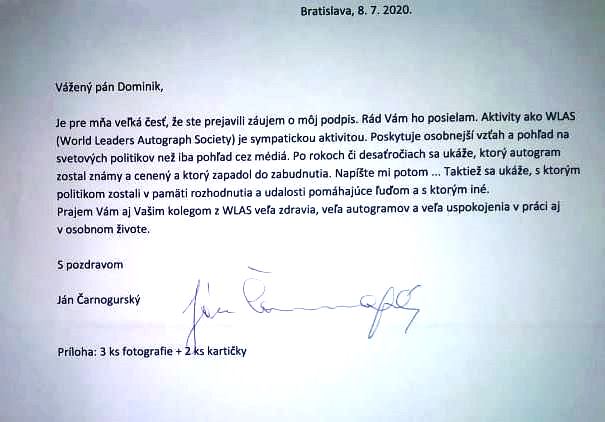 ..... WLAS (World Leaders Autograph Society) is a symphatetic activity. It offers a more personal relationship and view on world politicians other than via the media. It will be seen after years and decades, which autograph´s are well known and appreciated and which fell into obscurtity. Let me know then .... It will be seen too, which politician´s will be connected with the decisions and events of helping people and which will be viewed differently.
I wish you and your colleagues from WLAS good health, many autographs and a lot of satisfaction in your work as well as in your personal life.
Sincerely
Ján Čarnogurský
(free translation by Michal Dominik)
---
prime minister of Bulgaria (2014-2014)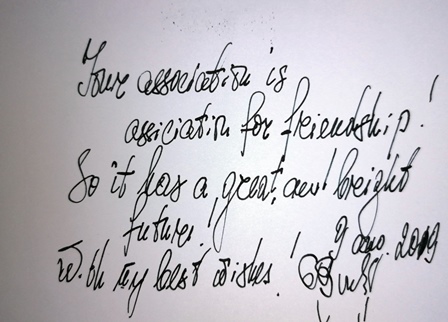 ---
prime minister of Bulgaria (1994-1995)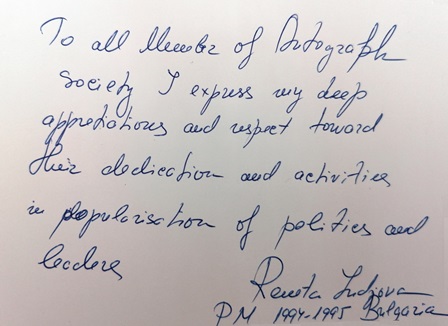 ---
leader of Belarus (1991-1994)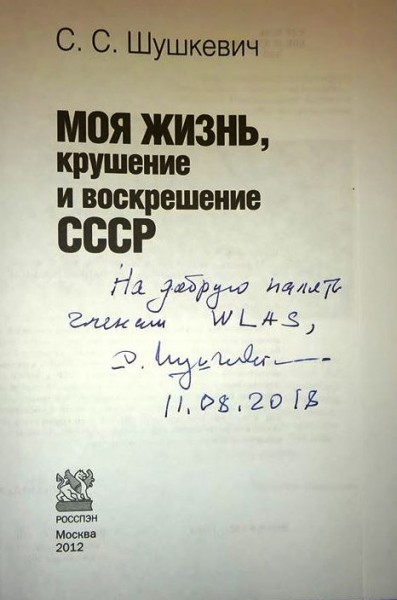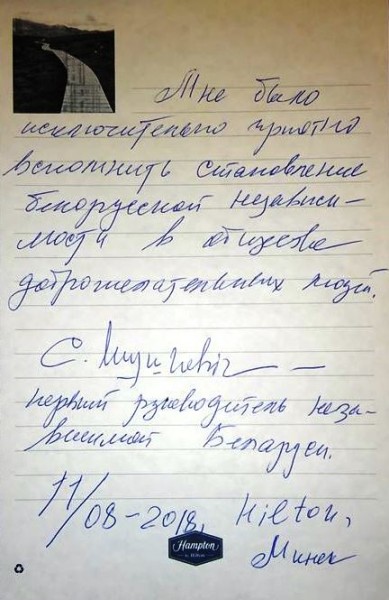 It was an exceptional pleasure for me to recall the establishing of the independence of Belarus among well-wishing people.
S. Shushkevich
The first leader of the Independent Republic of Belarus
11.8.2018 Hampton by Hilton, Minsk
(translated by Hotel Hampton by Hilton after the meeting of Mr. Shushkevich with the members of WLAS)
---
foreign minister of the Slovak Republic (2009-2010, 2012-2020)
President of the United Nations General Assembly (2017-2018)

Dear friends from WLAS,
I appreciate your initiative to support and to deepen the understanding among nations with the collectors activities. I attach my autograph as a symbol for the support of this good thing.
(translated from the message sent to Michal Dominik at 9th of September 2017)


---
foreign minister of the Federal Republic of Yugoslavia (1998-2000)
president of Belgrade Forum of the World of Equals